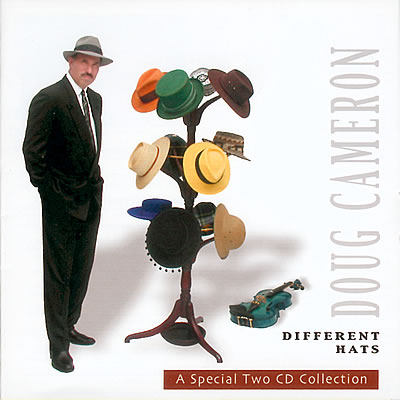 Paganini Jazz -
Ellington Medley -
Time to Say Goodbye -
Eine Kleine Nachtmusik -
The Devil Went Down To Georgia -
Schindler's List -
The Roadrunner Theme -
Over The Rainbow -
How High The Moon -
Fiddler On The Roof -
Rocky Top -
Czardas -
Sweet Georgia Brown -
Update Required
To play the media you will need to either update your browser to a recent version or update your
Flash plugin
.
Preeminent contemporary violinist and composer Doug Cameron explores a wide range of musical styles on this distinctive Different Hats collection. From Broadway to Jazz, Gypsy to Flamenco, Classical to Country and Celtic to Cajun, Different Hats encompasses the broadest range of music Cameron has ever produced. Also included are tracks from each of Doug's prior seven releases along with previously un-released material.
This project has been a particularly enjoyable one for me. I love all kinds of music, and I thought the name Different Hats would be a great way to tie it all together. Part of this CD was recorded in Sydney, Australia with some great musicians. I always enjoy playing with Chad Wackerman and Leon Gaer when I go down under, and it was great to work with Dave Pritchard and The Sydney Horns as well.
"I'm so happy to have my mother, Barbara Cameron on my CD. She had her own radio show in Cincinnati, sang with Rosemary Clooney and the Clooney sisters and was a soloist with The Cincinnati Symphony. She also wrote and sang the theme song for The Roadrunnner TV show, so I actually have to pay my mother royalties to put it on my CD! My mom also plays piano, and when I perform with her, I can really see where I get my style and sound–it's apparent in her playing and singing.
It was a pleasure to record the theme from Schindler's List with Nana Mukhadze. Nana is a fantastic solo pianist from Russia, with incredible sensitivity and touch, and she has performed all over the world. She has appeared in recital at Alice Tully Hall in New York, among other prestigious venues. Thanks, Nana!
During the past couple of years, I've been working with young musicians in my master class/workshop programs. This has truly been some of the most meaningful and inspiring work I've ever done. You see, I feel it is more important than ever to encourage young people to be involved in music. Music programs are falling by the wayside… and I believe music provides a positive focus for young people. So, thanks for listening to my music, and let's keep music alive!"
Doug Cameron explores a wide range of musical styles on this distinctive Different Hats collection. From Broadway to Jazz, Gypsy to Flamenco, Classical to Country and Celtic to Cajun, Different Hats encompasses the broadest range of music Cameron has ever produced. Also included are tracks from each of Doug's prior seven releases along with previously unreleased material. Featuring tracks from The Sydney Sessions with Chad Wackerman-Drums, Leon Gaer-Bass-Dave Pritchard-Piano, and the Sydney Horns-Trumpets -Paul Panichi, Paul Thorne • Trombone – Anthony Cable • Alto, Tenor Sax – Lee Huchings • Flute, Piccolo Clarinet, Alto, Tenor & Bari Sax – Dan Higgins
TRACKS – CD ONE
1. Paganini Jazz
2. Ellington Medley
3. Time To Say Goodbye
4. Eine Kleine Nachtmusik
5. The Devil Went Down To Georgia
6. Schindler's List
7. The Roadrunner Theme
8. Over The Rainbow
9. How High The Moon
10. Fiddler On The Roof Medley
11. Rocky Top
12. Czardas
13. Sweet Georgia Brown
14. Orange Blossom Special
15. America The Beautiful
TRACKS – CD TWO
1. Passion Suite
2. Magia Espanola
3. Spirit
4. Letter To A Friend
5. Old San Juan
6. Heart Of Ireland
7. La Alma De Granada
8. Primetime
9. Coat & Hat
10. Cajun Time
11. A Prayer For Freedom
12. Quartet Tropicale
13. These Are The Momentst