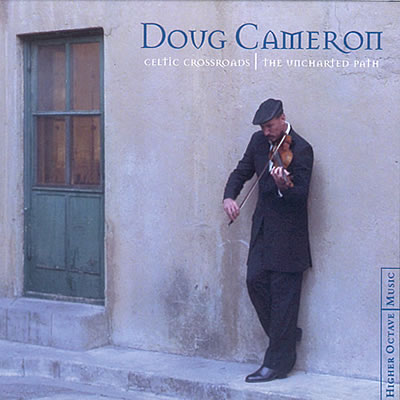 Dublin Groove -
Lord of the Dance Medley -
Book of Days -
Drowsie Maggie -
John Jr. -
Mummer's Dance -
Time to Say Goodbye -
Havana Reel -
Runaway -
Reel Around the Sun/The Countess -
My Heart Will Go On -
The Jig Set -
Heart of Ireland -
Reel Around the Sun -
Mason's Apron -
Update Required
To play the media you will need to either update your browser to a recent version or update your
Flash plugin
.
Celtic Crossroads
Celtic Crossroads has been an exciting and interesting journey for me. My CD's in the past have been jazz-oriented, however, I have always been infatuated with Celtic music. Of course, with a good Scottish name like Cameron, I have some Celtic heritage that I'm quite proud of as well! I decided to take elements of what I do in the jazz world and mix it with Celtic music.
Part of the focus of this project was to take some of the more famous pieces from the popular shows like Riverdance and Lord of the Dance and incorporate my interpretation of them into the CD. I spent quite a bit of time becoming familiar with the music from these shows, and I commend Bill Whelan and Ron Hardiman for the talent and insight they both displayed to create these monumental works. I hope they feel I have done justice to their music in my representation on this CD. I had the opportunity to see Riverdance in Dublin last summer, and was literally moved to tears by the power of this work. One of the most striking pieces in Lord of the Dance for me is Lament, which is an emotional violin duet. I am particularly happy to have been able to record this piece on the Stradivarius violin, as the sound of the instrument is particularly beautiful for this setting.
One of the ways I have become familiar with this kind of music has been sitting in with Celtic musicians in Celtic jam sessions, which are commonly known as a "ceilidh" (pronounced-kaylie). I have been doing this all over the world, from Los Angeles to Dublin, from England to Australia in my travels. I have noticed a sort of openness on the part of Celtic musicians all over the world to share their music with other musicians. It's different than the jazz world in that everybody is welcome to play. It¹s not as much of an "invitation only" affair. I even went to see The Chieftains perform in Los Angeles and was invited to sit in with them, along with other local Celtic musicians, at the end of their show. This seems to be part of the warm, friendly style of Celtic people, and it extends to the music. Everybody's welcome! What I have also found striking about Celtic music is its universal appeal. I have heard and played Celtic music in all corners of the world in my travels. Just about anywhere you go, there is always an Irish pub nearby!
"A landmark release takes violinist Doug Cameron to a musical crossroads, melding modern and traditional elements for a truly seamless feel. Celtic Crossroads: The Uncharted Path is a passionately played, heartfelt collection, built around the pulsing, life-affirming beats of the bodhran and other Celtic elements. Several medleys of traditional Irish pieces (including "The Jig Set" and "Lord of the Dance Medley") set and reestablish a reverent tone, with warmth and magic in their traditional arrangements (not to mention some stretching, brave and strenuous workouts for Cameron's violin). In between, Cameron melts the boundaries between traditional and contemporary, lightly shifting the scales from track to track. For example: his hypnotic, gently modernist take on Loreena McKennitt's "Mummer's Dance" spices its delicate Celtic center with swirling keyboards, while a warm "Book of Days" takes Enya's new-age electronics and renders them organic, sweeping through the melody with sweet violin, brisk mandolin and lithe piping. The effect is almost as if this version was the original. The eloquent "John Jr." is another highlight, with Cameron's crying violin and wailing Irish pipes backed by a modern keyboard haze, for a disarming, reflective effect. Cameron keeps this balance throughout, bravely taking on the traditional, and integrating modern shades where they make the most sense. The result is a fully realized, timeless collection." ~ Hilarie Grey for JazzTimes