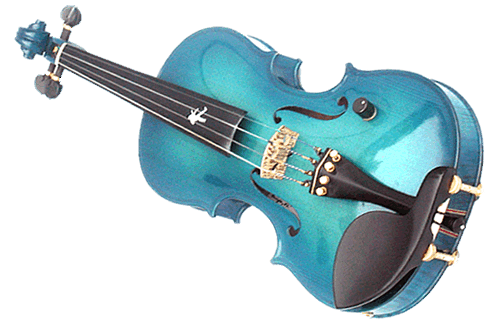 The Electric Violin
Doug's custom electric violin was made for him by master violin maker John Importuno.
"I am really happy with this wonderful instrument.  In the past, I have played other electric violins, however they were really factory instruments with electronics built in. I got together with John and we developed an instrument with the electronics I wanted that worked well for me.
What came out is a fine, handcrafted electric violin that I really enjoy playing.  Not only does it sound and feel great, but I no longer feel the need to bring my acoustic instrument to practice when I go on the road.  My electric sounds great acoustically as well, so I can practice on it. I'm grateful to John for his talent and workmanship."
The Stradivarius Violin
The violin used to record the majority of the Celtic Crossroads: The Uncharted Path CD was made in 1714 by the famous violinmaker, Antonio Stradivarius.  Stradivarius violins are categorized into four periods.  This one originates from the "golden period" which encompasses violins made after the turn of the century.  They are among the most coveted and best regarded instruments by the maker because it is believed he was at the peak of his career at that point.  This particular violin is called the "Jackson" because it was made famous by Leonora Jackson, a female violinist who played around the turn of the century.  I had an affair with a Stradivarius!
Dr. William Sloan was kind enough to loan  Doug this instrument, and he had it in his home for two weeks.
"After I got over the nervousness of having this instrument in my possession (it is valued at over 2 million U.S. dollars!), I felt more and more comfortable playing the instrument.  I consider myself very lucky, as most violinists don't even get an opportunity to play a Strad.  I was fortunate enough to have a golden period Strad living with me at my house for two weeks!" There are approximately 500 Stradivarius violins around, and of them, many are in private collections.  "By the end of my time with the instrument, it was difficult for me to let it go.  I started to feel a certain connection with it, the way it responded, its sound etc.  It was an experience I will never forget, and I am grateful to Dr. Sloan giving me the opportunity to play this instrument on my CD.  I don't know of a Stradivarius violin being used in quite this context, but the violin responded beautifully (I think she really enjoyed the change of pace!)."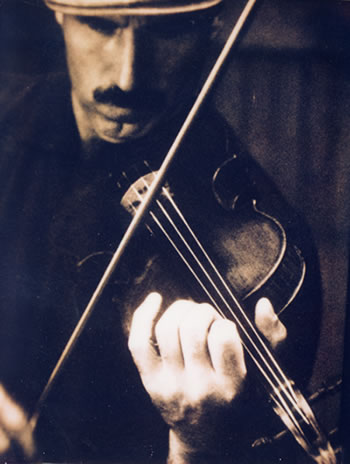 Doug is endorsed by Yamaha Silent Violins
"Yamaha Silent Violins are great for playing electric.  They don't feed back at high volumes and have superior sound to any solid body violin I've played."
Doug plays a 5 string silent violin.