Doug Cameron's exciting music Book series!
Get your improv chops together fast! Break out of the classical box now! Learn jazz, rock, blues, Celtic, & country styles all with this series!
After five years of preparation, I am excited to finally release this series! I guarantee you will come out a better, more well rounded musician by practicing with these CDs and DVDs. You will completely change the way you approach your instrument! My book also gives you keen insights on how to excel in the music industry. I know you will find the DVDs and CD tracks inspiring to play with and learn from.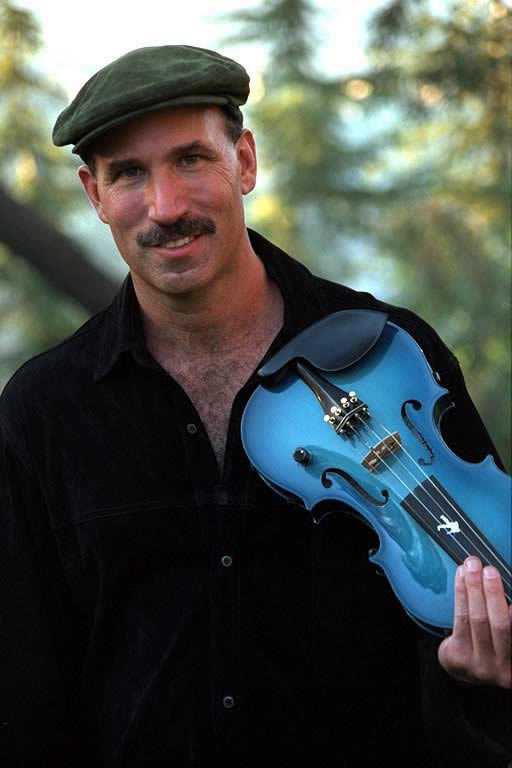 Learn alternative styles quickly! Jazz, rock, Celtic, Latin, blues, and more. All from the fellow who "wrote the book" on re-inventing the violin. Jazz violinist Doug Cameron is a leader in alternative styles of violin playing. With eight CDs to his credit, Cameron is a favorite on jazz radio internationally and is well known for his unique, trademark style. Cameron's CDs feature many of his own compositions and arrangements. As a recording artist in Hollywood, Cameron has worked with wide a variety of artists, including Tom Petty, Doc Severinsen, Gregg Allman, Cher, David Foster, Steve Vai, George Benson, and countless others, and Doug's music can be heard in many major feature films. Today Doug tours extensively, frequently appearing as soloist with symphony orchestras in captivating concerts featuring his own compositions.
Many jazz luminaries have appeared on Cameron's eight CDs, including David Benoit, Joe Sample, Lee Ritenour, Russ Ferrante of The Yellowjackets, Gerald Albright, Boney James, Vinnie Colaiuta, and others. Doug has now created a unique series of instructional music books paired with backing tracks featuring some of LA's top studio musicians. These tracks are truly inspiring to play along to! Doug's music books contain meticulously laid out transcriptions from his CDs, even including the jazz solos from his recordings. Also included in his introduction music book are invaluable insights into Doug's extensive career as a recording artist, composer, arranger, studio musician, and performer. Renowned producer David Foster says, "It teaches what real musicians need to know!"
The project also includes instructional DVDs filmed in high definition to clearly show you how Doug approaches each piece of music. Each DVD also contains one piece's full rhythm track performed live onscreen by Doug's band, so you can actually perform the song while accompanied by Doug's own rhythm section. You'll truly feel like you are part of the ensemble!
Although Cameron is known primarily as a jazz violinist, he is equally proficient in many other diverse styles, including Latin, Celtic, country, and blues. This series encompasses each of these alternative styles. It functions as a "Swiss army knife," providing you with all the tools you need to cut into these various styles of music on your stringed instrument.
In an age where the basic fundamentals of music are at great risk, we finally have a book that teaches what real musicians need to know. Doug Cameron imparts some invaluable advice in this book that can truly benefit any musician, not just string players. Really smart, concise, and useful for up-and-comers. A fantastic wealth of information he has created for our future guys! – David Foster – renowned producer
Instructional Introduction Volume with DVD
Filled with invaluable information, tips, and instruction. "A fantastic wealth of information," as David Foster says. A handbook on how to succeed and thrive in the music business and instruction on alternative violin techniques. A complete masterclass series on a DVD!
Volume 1 (Easier) Book, CD, & DVD
Includes The Devil Went Down to Georgia, America the Beautiful, Doug's Blues, Doug's Latin jazz hit "Magía Española, and other original favorites by Doug Cameron.
Volume 2 (Intermediate) Book, CD, & DVD
Includes Over the Rainbow, Time to Say Goodbye, and Doug's original Celtic, Latin, Passion Suite from Doug Cameron & other jazzy favorites.
Volume 3 (Advanced) Book, CD, & DVD
Includes Doug's unique, jazzy version of the famous Paganini #24 Caprice, Orange Blossom Special, Sweet Georgia Brown, and some upbeat funk and hip hop selections by Doug Cameron.
Entire Set – Music Book Series
Purchase the entire set for $149.95 ($15.00 off) and receive Doug's Different Hats 2 CD collection FREE!!